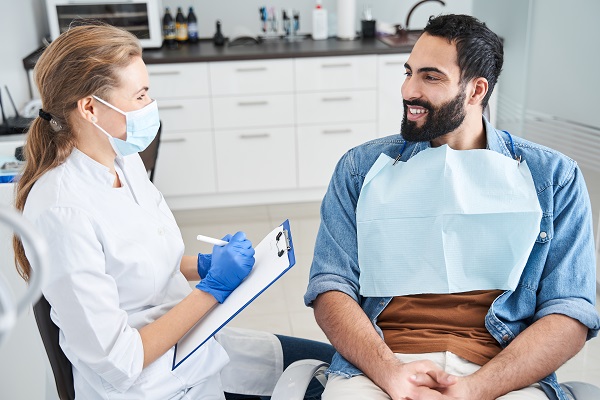 Wondering why a dental office would need a dentist coach? Dentist coaches, also known as dental business consultants, help dental teams implement protocols that make their office run more efficiently. When front office dental teams work better, it improves business opportunities and client satisfaction.
What is a dentist coach?
A dentist coach is a professional trainer who understands how essential it is for the front office of a dental practice to be efficiently managed. They completely understand what it takes to make the front office run more efficiently and therefore are becoming a popular choice amongst both new and established dental practices. The fact that every dental front office is unique means that a dentist coach will create a personalized front office training plan for every office they help.
Dentist coaches offer front office training
The list below includes three techniques dentist coaches use to help a dental practice improve the way their front office is managed. Understand that some dental business consultants offer hands-on training, others offer virtual front office training, and some offer both types of training methods.
Greeting patients
Great customer service is still something most people look for and expect when going to a dental office. This makes it essential for the front office to properly greet patients when they arrive at the office. Staff members need to drop everything they are doing and immediately address the patient. A quick smile and hello are often not sufficient, as patients need to be welcomed appropriately upon their arrival. The first few minutes of a patient's arrival tend to set the mood for the rest of the appointment. When patients receive great customer service, they are more likely to be loyal to that dental office.
Telephone etiquette
Telephone skills are one of the more important skills that dental front office staff need to learn. The way staff members communicate with current patients, as well as potential new patients, is extremely important to the overall success of a dental practice. This makes it essential for every staff member to learn proper telephone etiquette anytime they are dealing with customers, as well as other businesses. A few suggestions for improving telephone etiquette in a dental front office include fully listening, showing genuine interest, and making sure to answer the phone by the third ring.
Scheduling for profitability
There is an art to scheduling dental patients. The way a dental office schedules its patients is extremely important, making it necessary for office staff to schedule correctly. Every dental office should have a proper protocol in place for scheduling all types of dental appointments. It is also important for office staff to learn how to properly handle dental patients who are experiencing an emergency or who need to cancel an appointment.
Are you in need of a dentist coach?
If you own your own dental practice and could use a little help with your front office training, then the next step is hiring a dental business consultant. Now that the above information has been read, it is understood more about what a dentist coach's responsibilities are, which helps to give a dental practice a good idea of what they can expect when hiring a professional dentist coach.
You can find more information here: https://nickersonconsulting.com or call Nickerson Consulting at (818) 483-9061 to schedule a call with us
Check out what others are saying about our services on Yelp: Dentist Coach in Palm Desert, CA.
---
Related Posts
January 9, 2023
Your dental practice can benefit from a dentist coach. A dental practice consultant will analyze your practice. The analysis will provide you with important insights for improving your practice. Find out what …