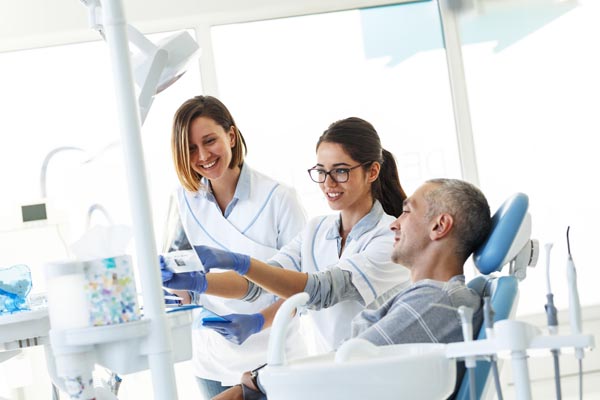 With dental offices reopening, many patients are eager to visit the dentist for a cleaning or examination. However, despite the need for dental offices to reopen, the COVID-19 pandemic is still a relevant problem. Because of this, there are necessary precautionary measures that dental offices are required to take before opening their doors. These measures are helping slow the spread, while also ensuring that patients get the dental care they need.
Changes with dental offices reopening
Below is an overview of what is different as dental offices reopen. This information can be especially helpful to review prior to returning to the dentist.
The use of PPE and the requirement of masks
Personal protective equipment includes face masks, eyeglasses, gloves, facial shields, full-body gowns and head coverings. Dental offices reopening means the entire staff will be wearing PPE to protect themselves, as well as incoming patients. While PPE does not necessarily prevent COVID-19, it does significantly reduce the risk of it being transmitted or spread.
Another thing that is different about dental offices reopening is the requirement of masks. Patients are being advised or required to wear facial masks when entering the dental office, as this protects themselves and the dental team.
Limited availability and social distancing
Dental offices reopening does not mean that practices are operating at full capacity. In fact, many dental offices are only operating at 50-75% capacity due to COVID-19. Because of this, there are also limits on availability, meaning there are fewer appointments available to patients. Additionally, wait times may be longer, and non-emergent dental appointments may get pushed back a few months.
Another big change with dental offices reopening during COVID-19 is that social distancing will be practiced. Patients visiting the dentist should expect to wait in their car until told to come inside. Waiting rooms are typically closed off to encourage social distancing and to slow the spread of the virus. Appointments may also be held in private rooms to ensure 6 feet of distance between others, thus helping to slow any spread or transmission between patients and dental teams.
Disinfecting and sanitizing measures
While dental practices have always been clean, COVID-19 has encouraged an increase in the way that things are disinfected and sanitized. All surfaces, including door handles, countertops and chairs are sanitized thoroughly after each dental appointment. Additionally, instruments and tools are being disinfected to maximum capability. These measures have been implemented to ensure a safe workplace and a safe environment for patients requiring dental care.
Learn more about dental offices reopening
Navigating through the COVID-19 pandemic can be difficult, but dental offices reopening is ultimately a good thing. Those that need dental care can safely visit the dentist without fear or anxiety. To find out more about certain precautions and the current changes, reach out today. Questions and concerns can be addressed, which can be helpful when returning to the dentist.
Find more information here: https://nickersonconsulting.com or call Nickerson Consulting at (818) 483-9061 to schedule a call with us.
Check out what others are saying about our services on Yelp: Read our Yelp reviews.
---
Related Posts
April 8, 2021
Proper dental practice management can be difficult. Between caring for patients, working with staff, and managing the practice, your days can be full. With all these tasks, it can sometimes be …